It is my honor to announce that the 65th anniversary of Baikaryu Service Convention will be held in the magnificent scale, with a warm welcome to all participants.
To celebrate this milestone of 65th anniversary, about 10 thousand participants from all over the country will gather for 2 days. On behalf of the people of Fukui prefecture, it gives me great pleasure to welcome you to Fukui. I expect this convention will be an excellent opportunity to deepen friendship with each other.
The weather has been wonderful these past 10 days. I hope that you will all enjoy seeing tourist sites here in Fukui, although it is raining off and on today.
You can look down on Fukui Plain from the window of the plane above Komatsu Airport. Now is the season of green rice plants and harvest of golden barley. There is an old movie named gEarly Season (original title: Bakushu)h, it is exactly that time of year, and certainly excellent season to visit Fukui.
Daihonzan Eiheiji, one of the head temples of Soto Zen Buddhism, has received two stars in the Michelin Guide. It attracts attention from around the world and gathers many international tourists as a major tourist site of Fukui.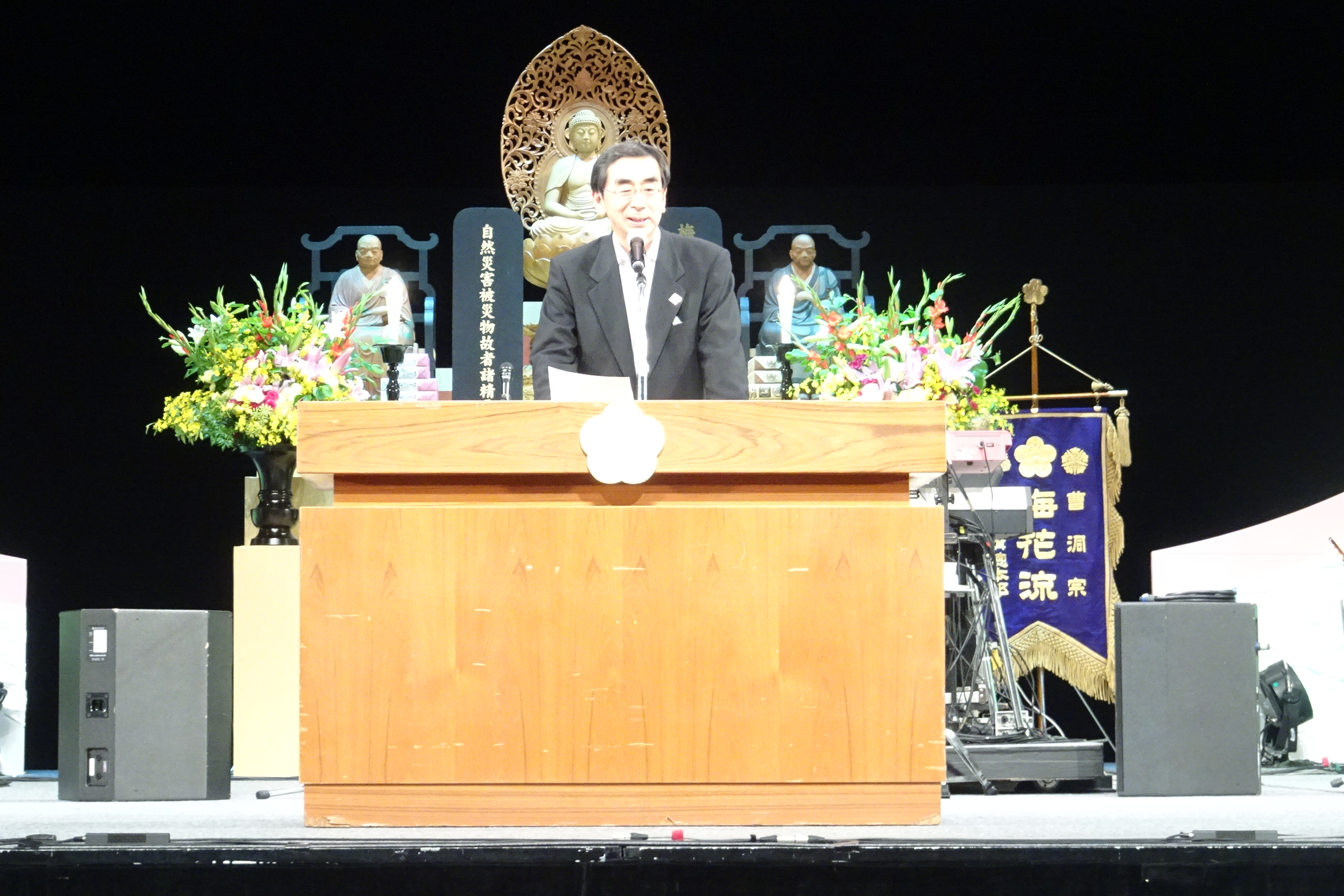 Together with Daihonzan Eiheiji and Eiheji Town we are promoting the project to reconstruct the gate front area of Eiheiji. Different activities are now being promoted, including the construction of temple lodgings, as well as our approach towards the development of infrastructure, such as repairing the path to Eiheiji Temple and landscaping rivers, in order to increase its value and attract more tourists.
According to the results of the National Happiness Index, Fukui has remained Japanfs happiest prefecture for 3 straight years. Also, one of Japanfs most famous kinds of rice, Koshihikari, was invented here in Fukui. It has been more than 50 years since its invention, and we are putting new kind of rice named gIchihomareh on the market. Surely, many places offer delicious rice; however I believe that this Ichihomare is superior to general products, much like our famous Echizen crab. I hope you all enjoy it.
Once Dogen Zenji, founder of Soto Zen Buddhism, was asked, gWhy did you found the head temple, Eiheiji, in Fukui?h He answered in tanka (traditional Japanese poem), gyou may think this is a place deep in the mountains, however once I live here, it has grown as my home.h Since then, Fukui has developed as the home of everyonefs heart.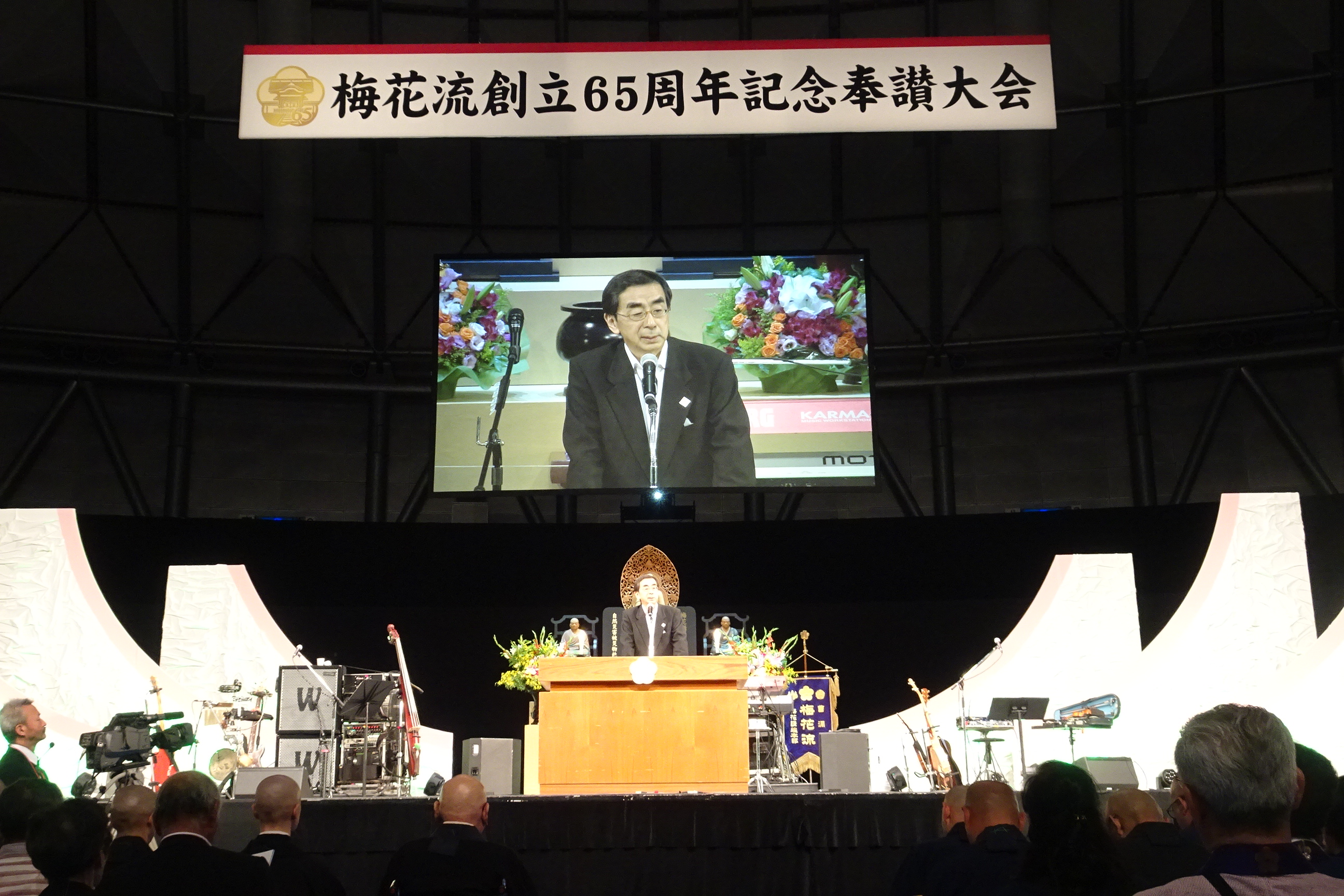 I am the governor who suggested the gHometown Taxh, a tax deduction for donations to local government. Recently, return gift for the gHometown Taxh from local governments has become an issue, however I suppose the participants here today do expect in blessing of Buddha, but not a gift in return.
I hope you all donate to Eiheiji Town and Fukui prefecture. If 10,000 people make a 10,000 yen donation, itfll make one 100 million yen, or 100,000 yen donation each could even make 1 billion yen.
Delicious lotus flower rice is produced in Eiheiji Town, as well as its famous garlic, corn and sesame tofu. I emphasize again to make a donation to Eiheiji Town, just believing its blessing.
Other than Eiheiji, there are many attractive sites in Fukui like the Ichijodani Asakura Clan Ruins, designated a special historic site, a special place of scenic beauty, and an important cultural property by the Japanese government. Furthermore, the Tojinbo Cliffs and Fukui Prefectural Dinosaur Museum, which displays dinosaur skeletons and fossil specimens, attract about 100,000 tourists each year. Not to mention the delicious water, sake, and fish our prefecture is known for! I hope you all take the opportunity to enjoy them while you are here.
Fukui is prefecture of healthy longevity, and you may extend your life just by spending 2 days here, so I hope you all have wonderful time. And hopefully youfll come back here after the Hokuriku Shinkansen bullet Line reaches Tsuruga city of Fukui in five years. Itfll be very convenience to access from Tokyo, or even Tohoku.
In conclusion, I wish for the continuing success and health for everyone here today, as well as the growth of Baikaryu. Thank you very much.