In this season of fallen cherry blossoms and new leaves begin to bud, I feel the far mountains and Kuzury? River one unity. The remaining snow on range of Mt.Hakusan and ski slope of Ski Jam looks beautiful, and I heartily congratulate you on holding the ceremony for the completion on such good day.
There must have been a lot of twists and turns until this day for a great number of people, especially for Katsuyama City, the Sightseeing town-creation company,and the owner Mrs.Nakamura. Ifm glad about the completion of such excellent facility,and I would like to offer my heartfelt thanks to them for all the generous support.
Fukui Prefecture has been supporting and improving local areas by using the various unique characteristics of each city and town. One of these ways is through the project gNew Furusato Creationh. In fact, the prefecture has supported around half of this Katsuyama City project. As a result, the Registered national Tangible Folk Cultural Property, gformer traditional Restaurant Kagetsurou,hhas been turned into a new facility where people can enjoy the local food and culture. Just now, when looking at it, I could feel that it vastly improved.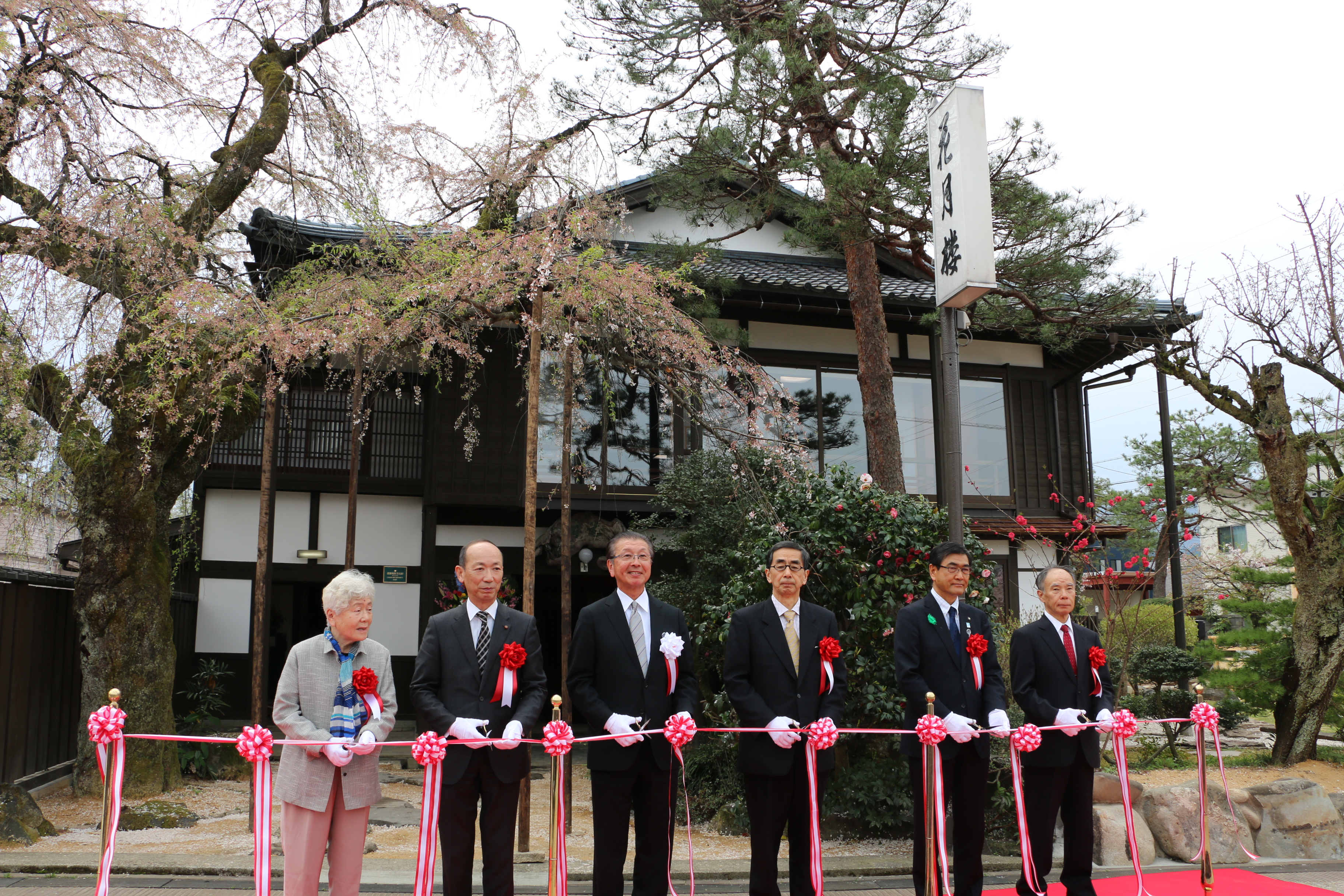 Katsuyama City has the famous Dinosaur Museum, Katsuyama Ski Jam, and a 1,300 year-old shrine ? Heisenji Hakusan Shrine. Every year around 2 million people visit these places.
In the center of city, there are many remaining silk manufacturing buildings that helped propel Japan into the modern era that are still standing; you can really sense what it was like during those times.
I hope that everyday the people of this City will view this establishment with pride. Furthermore, it is important that the hometown develop the community and promote central city area.
By the way, the routes Central Japan Expressway, between Eiheiji City and Ohno City, is going to be completed before this summer. Thanks to your help, the construction has entered its final stage. Additionally, 6 years from now in 2022, a new bullet train will be operating from Kanazawa City in Ishikawa to Tsuruga City in Fukui. We are doing our best to be able to see the end in sight.
Additionally the Echizen Railway, which connects Katsuyama and Fukui, is also under construction. The elevation of this railway will be completed next summer, just in time for the National Sports Festival of Japan gkokutaiEShosupoh in autumn.
With the opening of the high way this summer, all the main cities in the prefecture will be connected through expressways. We would like to make use of this chance to increase tourists from inside and outside by appealing of Okuetsu area,that means the north east area of Fukui prefecture include Katsuyama city and Ohno city,throughout Japan and improve the areafs energy.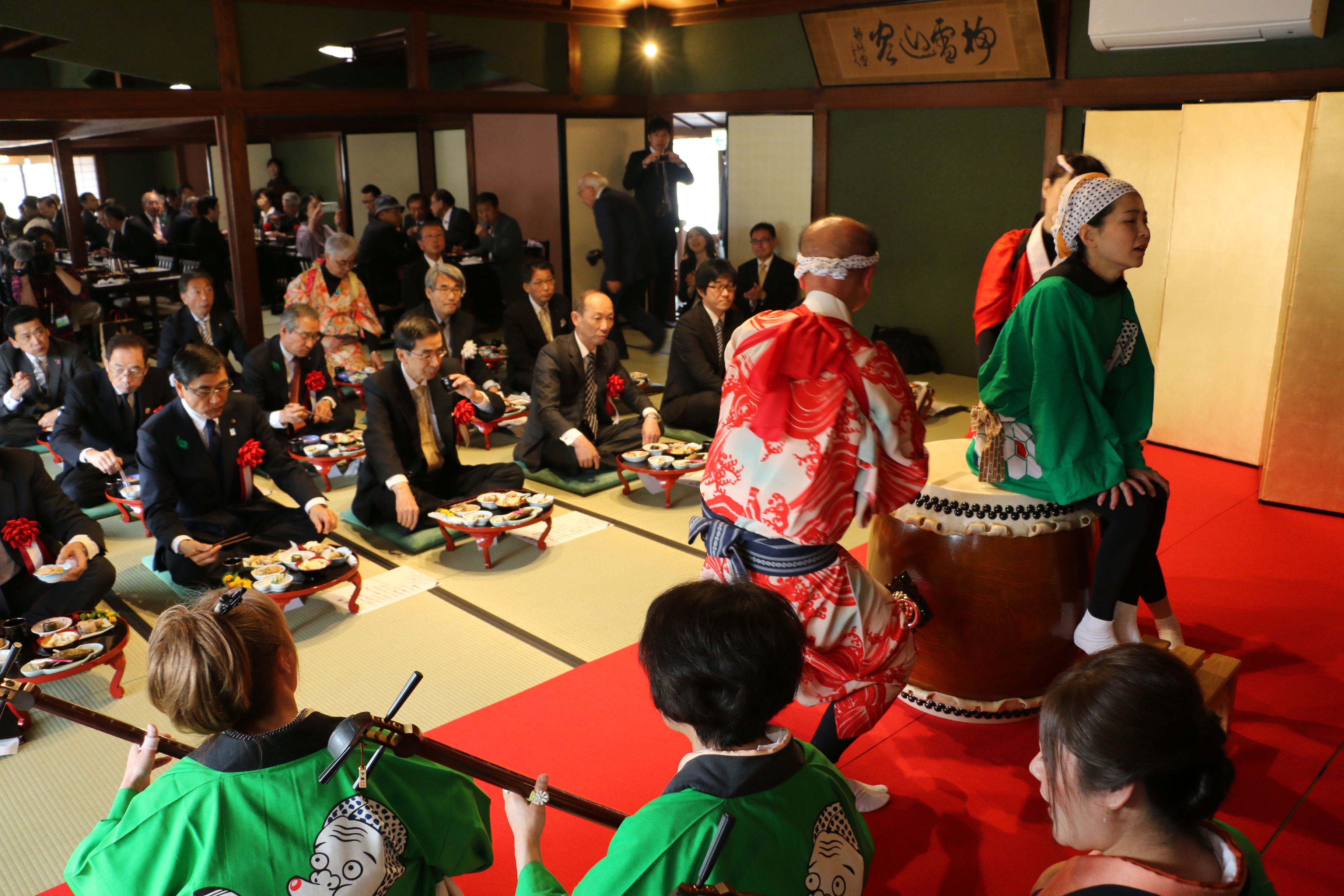 With the new expressway, bullet train, and the opening of various local railways, Our prefecture will become the door to the North, South, East and West in Japan. Additionally, with people traveling through and the influx of information exchange, Fukui prefecture will be more opened. In particular, this area called gOkuetsuh is the furthest most important place, as its name implies. I hope that it will become a gateway.
Therefore, the prefecture has established a action program rapid transportation to take further advantage of those chaces. With this as a foundation, we must be sure that Katsuyama City and its projects continue to make progress.
First of all, it is essential that we welcome businesses. It is crucial that we promote new industries that have combined cuisine with the agriculture, forestry, and fishing industries or local traditional craft industries. Tourism organizations and economic organizations must come together and polish up the historical legacies, traditional culture, and cuisine of this area to increase activity and expand the number of customers. I am asking all of you for further assistance and cooperation in these endeavors.
In closing, I would like to express that I truly hold respect for Katsuyama City and all those involved.
In the newspaper this morning there was an article about how Chinese softshell turtles were found in the same stratum as dinosaurs. In Japan there is a saying that a crane lives to a 1,000 years, and a turtle for 100,000. I hope that likewise, the Chinese softshell turtles and dinosaurs of Katsuyama will live on for a 100million years and that Katsuyama Cityfs growth would continue on in eternity.