@Spring has finally approached, and as it alternates between gthree cold days and four warm daysh, the farm work of this year is about to begin. Throughout the world, 47 structures from 8 countries including Japan, China, Thailand, Sri Lanka, and Egypt, have been designated as World Heritage Irrigation Structures. I am very pleased that today Asuwagawa Irrigation Canal will be registered among them and as the first in Fukui. I would like to express my sincere gratitude to Chairman of the land improvement district, all of the people attending today, as well as Mr. Hayashida who acted as The Japanese Society of Rural Development Chairperson, for the registration.
@ In 2011 Fukui Prefecture selected this landscape as the "Streams and Streets of Togo", as it is in harmony with the water, for The 100 Hometown Views of Fukui. I think that the efforts of regional revitalization through agricultural water, such as biotopes at elementary schools, was also taken into consideration during its evaluation to be registered as a heritage. Wefve just sung the new prefectural song before holding the Fukui National Sports Festival and Disabled Sports Competition next year. In the lyrics there is a sentence "On the autumn day, the rice bends with fruith. These lyrics are about agriculture, and I hold deep respect for the hardships of village people who built irrigation structures more than three hundred years ago, and supplied agricultural water to large farmlands of 2,000 hectares. Just now, there was a story about Yajibei Toda who was the magistrate of irrigation, I felt deeply moved that he was able to make the foundation of irrigation during Genroku era, and just into the era of Cyushingura, the story of 47 loyal retainersf revenge in 1702.
@Next, "post-Koshihikari"(gKoshihikari gis synonymous with delicious rice and it was first grown in Fukui prefecture.) began its development in 2011 for the next generation of Koshihikari, we selected a new strain of rice in December of last year. When selecting applications for new names for the rice, there were more than 100,000 entries from inside and outside the prefecture. I realized the peoplefs interest again, and we will decide the name of the new Koshihikari soon based on the entries that were submitted.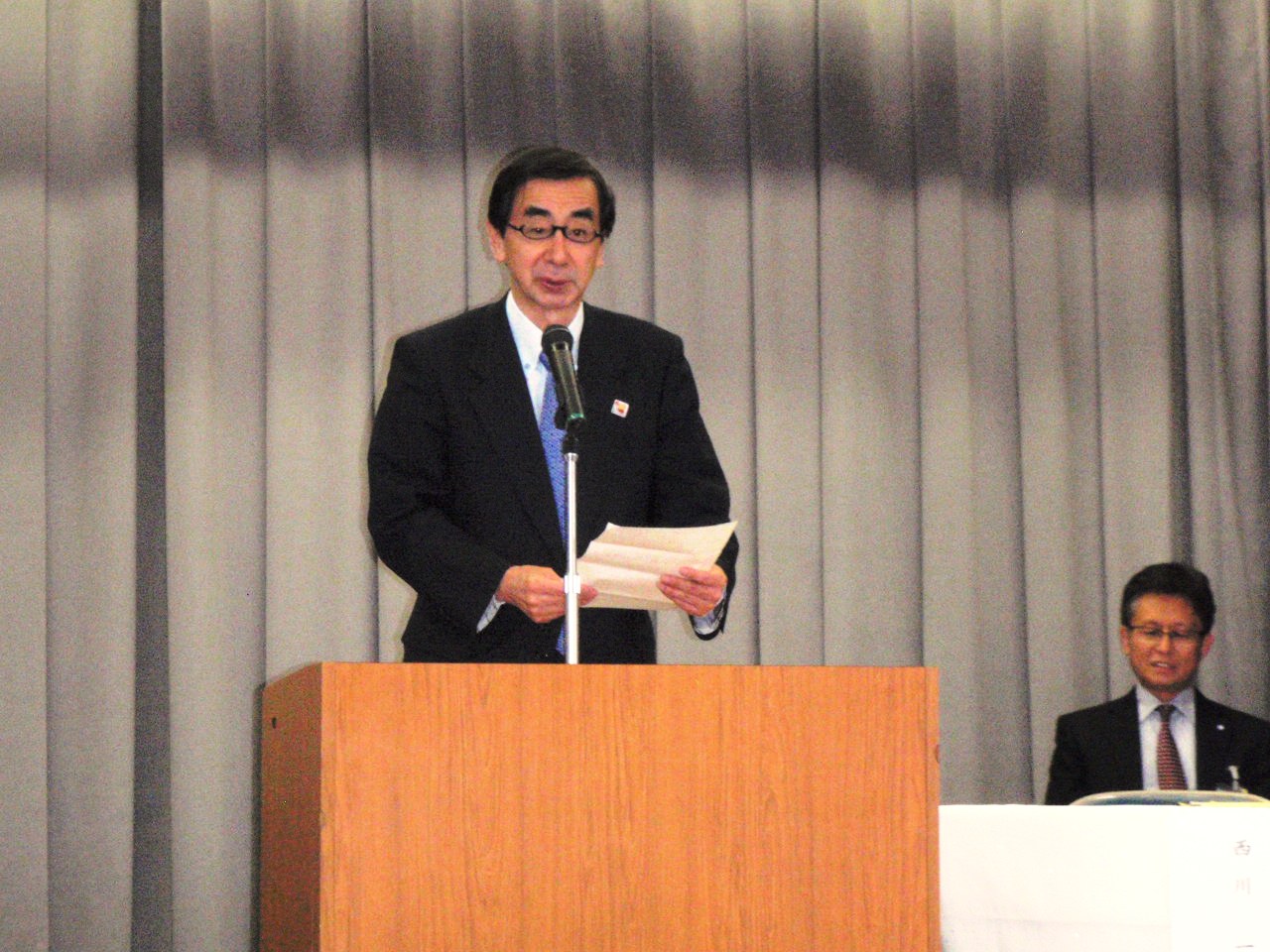 Furthermore, I want to use the beautiful and clean water of Fukui to make the rice and sell it to the whole country as Japanfs best brand. We are planning to make the new rice into a high-quality rice that must be made a certain way. For that, a stable supply of water is important. While firmly protecting this precious heritage, I expect that due to the ricefs added value as it is connected to this heritage, the price will rise to 100 yen, 200 yen, similar to Echizenkani.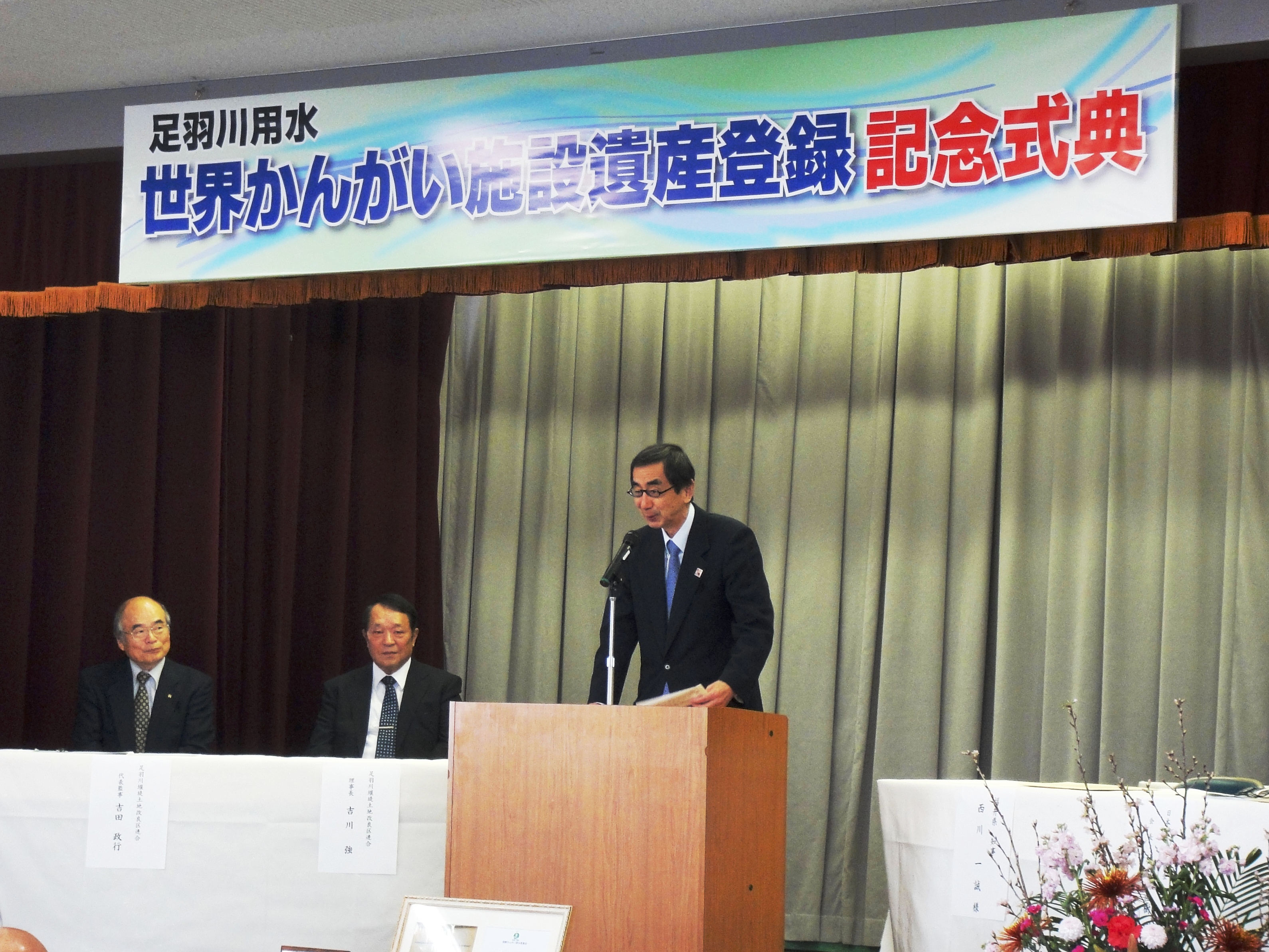 @Finally, with Asuwagawa Irrigation Canal becoming designated as a World Heritage Irrigation Structure, it is important to maintain and manage the facilities, as well as further enhance the revitalization of local areas through the practical use of irrigation, and pass it down to the next generation. In order to succeed, all of you will need to take care of your health, and work vigorously on your agricultural and community activities. Please be sure to take care of yourself, and I sincerely wish for your continued success, congratulations everyone!